Updated Nov. 30, 2023: We tried to find more codes!

Fishing Simulator is the popular Roblox experience where you can explore islands, chase sharks, catch fish, and design your own aquarium. Grab your best fishing equipment, invite your friends to a fishing party, and let the fishing rampage start.

If you redeem all the Fishing Simulator codes, you'll gain loads of Gems that are used as currency. With Gems, you can buy boats, pets, weapons, and other items and upgrades. If you want to get rich by selling rocks instead of selling fish, visit our Prove Dad Wrong by Selling Rocks Tycoon codes article and use the codes to get plenty of freebies in that game, too.

Fishing Simulator codes list","level":2,"anchor":"0-all-fishing-simulator-codes-list","index":0,"disabled":false,"customContent":""},{"content":"Fishing Simulator codes (Working)","level":3,"anchor":"1-fishing-simulator-codes-working","index":1,"disabled":false,"customContent":""},{"content":"Fishing Simulator codes (Expired)","level":3,"anchor":"2-fishing-simulator-codes-expired","index":2,"disabled":false,"customContent":""},{"content":"How to redeem codes in Fishing Simulator","level":2,"anchor":"3-how-to-redeem-codes-in-fishing-simulator-","index":3,"disabled":false,"customContent":""},{"content":"How can you get more Fishing Simulator codes?","level":2,"anchor":"4-how-can-you-get-more-fishing-simulator-codes","index":4,"disabled":false,"customContent":""},{"content":"Why are my Fishing Simulator codes not working?","level":3,"anchor":"5-why-are-my-fishing-simulator-codes-not-working","index":5,"disabled":false,"customContent":""},{"content":"How to get other rewards in Fishing Simulator","level":2,"anchor":"6-how-to-get-other-rewards-in-fishing-simulator-","index":6,"disabled":false,"customContent":""},{"content":"What is Fishing Simulator?","level":2,"anchor":"7-what-is-fishing-simulator-","index":7,"disabled":false,"customContent":""}], ); } clearInterval(repeat) } }, 1000); })();
All Fishing Simulator codes list
Fishing Simulator codes (Working)
THANKSGIVING--Redeem for 200 Gems (New)
Fishing Simulator codes (Expired)
Mustacho
Carp
SubToAustin
NarwhalGamor
BIGSPENDER
Bowfin
BowTime
Mischief5Year
Crayfish
JungleTemple20
Xbox One
Leak!
Catfish
Kahawai
ItsGemTime
Lionfish
NewYear2023
Goldensnapper
RandemGuppy
Clam
Goldensnapper
CoalFish
SubToCarbonMeister
SharkemGamor
20KTUNA
SandyPyramid
20MIL
20KTROUT
Bullhead
100000
RazorFishGaming
RepMischiefBalkBirthday
SharkemGamor
SDMittens
love
Clam
AprilFools
MythicRods
20KLikes
Sub2Conor3D
FlamingoInfinity
20KRANDEM
last2dye
BIGLIKES
Walleye
planetmilo
Ranbo
ChrimusPresent
NEWYEAR2021
Bullhead
SubToGamingDan
FOREVERALONE
FishAreCool
Likes100k
Flounder
20KGEORGE
VOIDSTORM
SubToPremiumSalad
WhaleOfATime2
snug
TimelessTides
Sub2Myster0y
20KGAMOR
200K
SUBTOBEEFPLAYZZ
20KPHIL
Artistic
Sub2SnowRBX
150M
Garfish
Crayfish
FruitCake
SPYBDAY
RandemGuppy
Subs4JixxyJax
NewIsland40
Walleye
MARBLEBDAY
SubToKiraBerry
MSCHFBDAY
1mill
stpatricksday
Mumazing
20KSHARK
Carp
NATIONALGF
Subtotelanthric
spycheetos
500KGROUP
Sub2Raconidas
Catfish
Bowfin
AlexisisCool
Sub2Expellez
How to redeem codes in Fishing Simulator
Redeeming codes in Fishing Simulator is pretty easy to do. Follow the instructions below: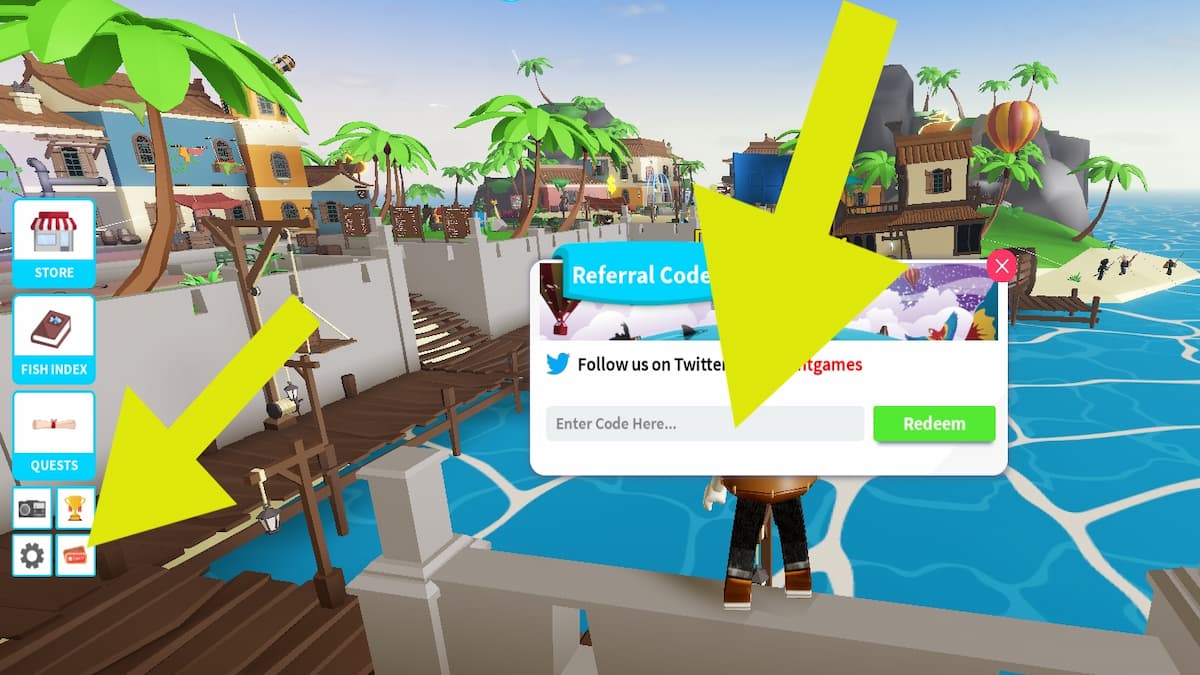 Start Fishing Simulator in Roblox.
Click on the ticket icon on the left side of the screen.
Copy each code from our list and paste it into the Enter Code Here text box.
Hit Redeem to claim your rewards.
How can you get more Fishing Simulator codes?
If you want to get all the latest Fishing Simulator codes, bookmark this page and return from time to time. We're searching for new codes every day, and we will update this article as soon as we find some.
If you decide to look for codes on your own, follow the developers on X (@cloudentgames) and YouTube (@CloudEntertainmentRoblox) and join the official Fishing Simulator Discord channel. This way, you can stay up-to-date with all news and updates.
Why are my Fishing Simulator codes not working?
First, carefully review the Fishing Simulator code you're trying to use--there's a chance you made a typo. The most frequent examples are capitalization errors or mistaking a letter for a number. We strongly advise you to copy and paste the codes you want to use straight from this page into the game for these reasons.
If the code still isn't working, it might be out-of-date. If you find one that has expired, let us know so we can quickly investigate and update the guide.
How to get other rewards in Fishing Simulator
If there aren't any active Fishing Simulator codes right now, there are still many other ways to win free stuff. You can speak with Raygan to accept three weekly tasks that award Shards. For additional rewards, finish the tasks listed under the Achievements tab on the left side of the screen. In addition, you can find free Coins by opening chests all across the map. Finally, remember to log in daily to maintain your streak and get Gems, Shards, and Coins from Daily Login Rewards.
What is Fishing Simulator?
Fishing Simulator is a Roblox game where the goal is to become as rich as possible by selling fish. Upgrading your equipment will help you catch better species and earn more money for your catch. There are multiple ways to progress in this game, such as fishing, whale and shark hunting, or even defeating sea monsters. In this incredible multiplayer experience, players can build their legacy as they sail across the vast seas, make friends with other players, and overcome all kinds of challenges.
If you are looking for free goodies in other Roblox games, check out our Roblox Codes section. We have plenty of freebies that will make your favorite titles even more enjoyable.